Please call the clubhouse at 434-392-2244 for more information
Covid-19 Changes
Single Cart Policy – One rider allowed per cart.  To ensure we have the capability of serving you tee times are required.
Social distancing rules apply at all times.  Please pay for your round before arriving when possible.
Carts are sanitized before each use and following each round.  Do not take a cart from the return line!  Return your cart immediately after play.  
Bunker rakes, practice green flags, and range bag stands have been removed.  If you ball lands in a bunker we have a local rule in place that allows for you to place the ball in the bunker no closer to the hole, then play your next shot with no penalty.
We have placed pool noodles into the bottom of the cups to eliminate the need to reach into a cup to retrieve your ball.  Please DO NOT touch the flagstick, and be generous with Gimmies!
We are no longer serving any hot food.  All snack items, golf balls, gloves, tees, and other items for purchase are kept behind the counter.  Ask the Pro Shop Attendant for assistance if you would like to purchase any of these items.
                                                                                                                                Golf Shop & Staff
Golf Shop Hours of Operation Monday – Sunday 7:30 AM – dusk (Weather permitting)
Practice Facilities
Along with the superb course conditions at The Manor Golf Club, we also offer excellent practice facilities. The all  2 tiered driving range provides consistent hitting surfaces year round with multiple targets to work on your game. The 12,000 sq. ft. multi-level, all bentgrass putting green always has room for practice, providing every putt you can imagine. This putting green is identical to the actual high standard course conditions that great golf demands here at The Manor Golf Club.
Professional Staff & Lessons
Our on-staff professionals combine for over 20 years of teaching experience with all age groups, for private lessons as well as group teaching sessions. We also offer various clinics throughout the season. Whether you are just learning the game or want to shave a few strokes off of your handicap, we are here to help. Both individual and group lessons are available on an appointment only basis.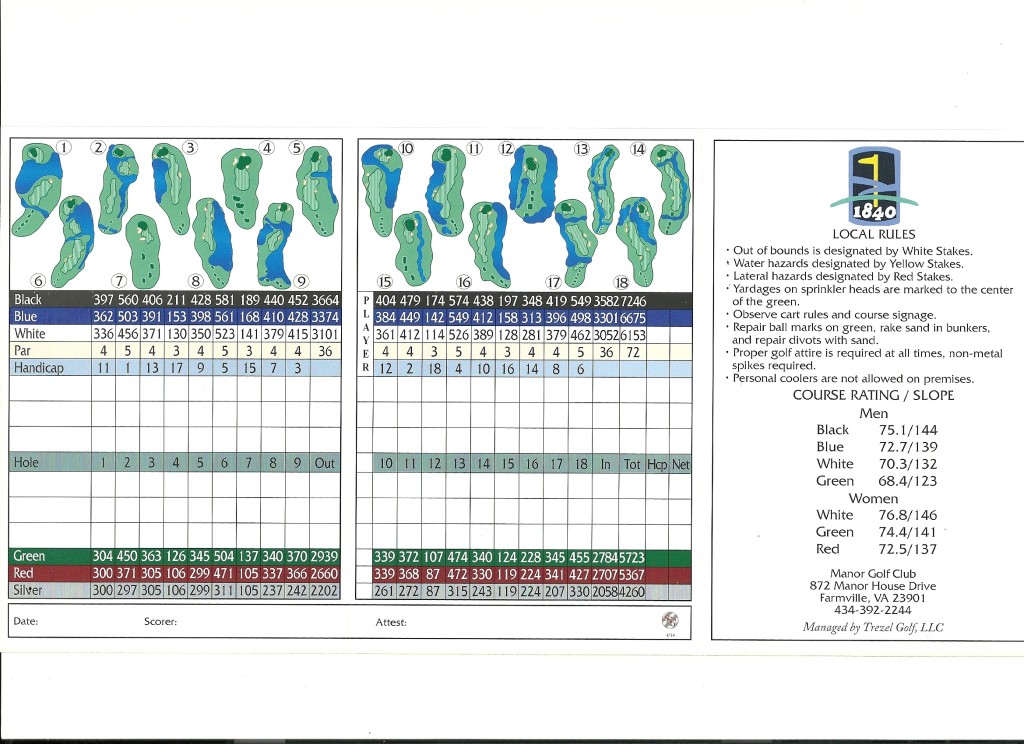 Contact Us
The Manor Golf Club
872 Manor House Dr
Farmville, VA 23901
(434) 392-2244